Looking for a solid content strategy to grow your business? When it comes to planning organic growth online, it can be complex, to say the least.
Do you need SEO? Regular blogging? Social media posts? How about ebooks and white papers? Maybe you need to provide webinars, live streams, video guides and… Well…. Everything??
Yeah, the list is endless.
And the more you add to the list of content the more expensive it gets.
And that's where an expert content strategist comes in. (*door opens* Oh hi 👋)
What is content strategy?
A content strategy is a holistic approach to creating online marketing content. A good content strategy will look at everything from your focus search terms for SEO, though to your social media content, PR and even offline content.
In short, it goes beyond just blogs and videos and aims to offer useful and engaging content at every stage of your potential buyers journey.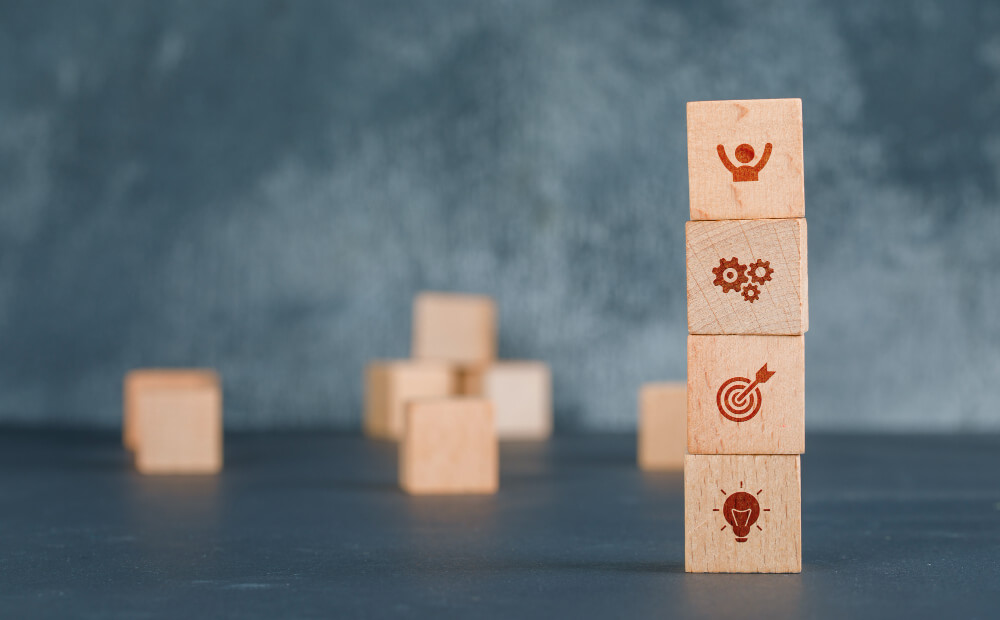 How to plan a content strategy
When planning a content strategy, you need to have an overview of several things related to your business goals, your audience and your product.
For starters, you'll need to:
Identify your audience, also known as your ICP or ideal customer profile
Understand what they're looking for with relation to your product
Define what your product does to help them
Map out their journey from awareness of their problem to committing to a solution
Work out what makes them choose you over the competition
While this is simplified, it does outline some of the key parts of the content strategy.
But once you have outline these, you can start to look at things like:
Where do your customers look for answers to their problem?
Who do they trust when it comes to choosing a solution to the problem?
What are the competition doing to appeal to your target audience?
What are the competition NOT doing to appeal to your target audience, and why not?
How does your product or solution help customers better than the competition?
What influences there final decision? Is it price, timing, services or something else?
You can actually read a more comprehensive guide right here:
How to plan your content strategy
SEO vs Content Strategy?
Search engine optimisation or SEO is a key part of content strategy. By understanding what your customers are searching for, you can build a plan to target those search terms and build web presence which funnels in a steady flow of organic traffic from search.
Now, while SEO focuses soley on organic search, specifically from Google, content strategy goes beyond this.
Why? Well, because not everyone searches for everything on Google.
How often do you search for something on Facebook, Instagram, Reddit or Wikipedia?
At what point do you turn to YouTube for help?
Do you use Instagram for product research?
If you're not sure about those yourself, the truth is that a lot of people do use diverse online channels to serve their search. And this is what content strategy is about.
So its not about SEO vs content strategy. The two are very much complimentary.
Here is a recent Linkedin post I wrote on this very subject: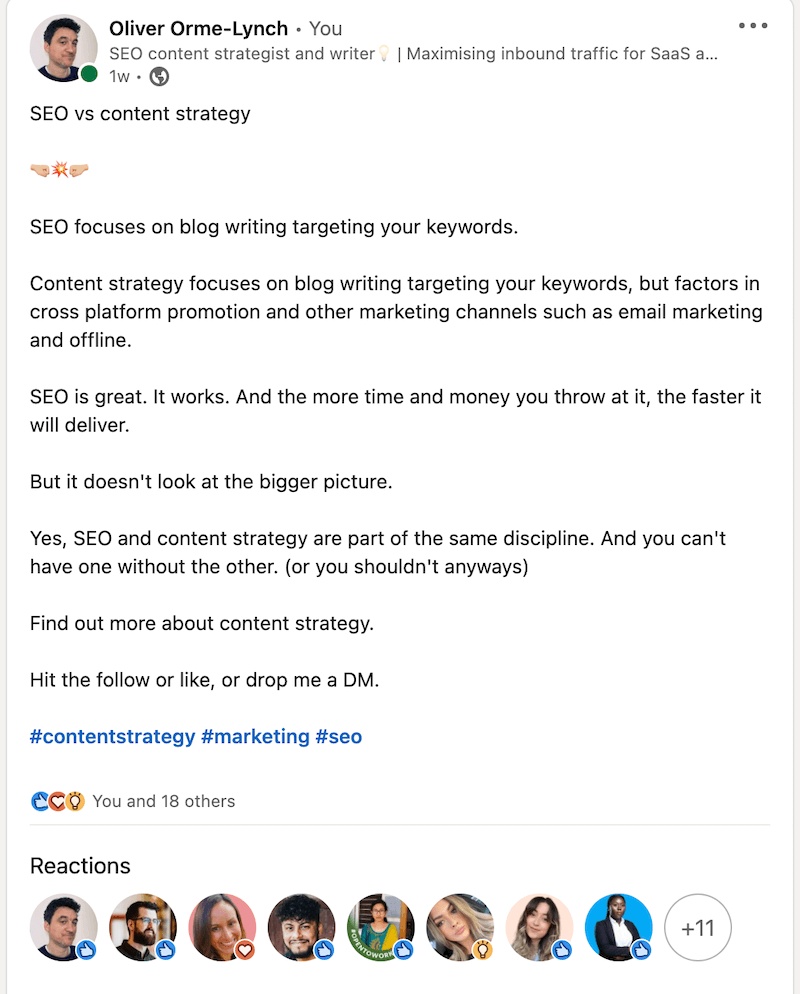 How content strategy works
When you plan a content strategy, you're trying to generate traffic from multiple sources and build your brand on more than one channel. This usually means you are spreading the net wider and you stand a better chance of *faster* results.
I put it in the asterisks because you can't guarantee anything and it will depend on a number of factors such as how competitive your industry is, your keywords and even how much you spend on your content strategy.
But… I have had success within just a few months for several brands.
Some examples:
Doubled traffic in 4 months for UK based local services app

This short project for a UK based app started from a low baseline.
My project was to create content clusters on a specific UK location and generate some backlinks too. Within 4 months the traffic had doubled.
This included page one and position one search results for some specific location search terms. A great boost for this company trying to improve their local appeal.
Regular posting + social media for this magazine site
I started working on this local magazine site which was ambling along just before New Year 2022 – traffic was between 0-10 per day and the content was a bit random.
With a focus on a mixture of search and social promotion, plus some content pillars/clusters, and a focus on reviews and guides, the site jumped after about 3 months and is now pushing consistently upwards in traffic.
View more examples in my portfolio.
How much does content strategy cost?
Because of it's broader approach to content and marketing, a good content strategy will cost more than standard SEO. While many SEO packages are advertised as starting from around £500 per month, a content strategy plan shouldn't cost less than £1000 per month.
If it does, ask why it's so cheap and be worried.
My content strategy plans will start from £1250 for the standard package.
This includes:
Keyword and competitor research
A content plan targeting search terms with blogs
6-8 blogs (depending on size and word count)
Accompanying social media to promote the blogs (one platform)
Analysis of other content mediums which could help generate traffic such as email marketing/lead generation downloads etc
Schedule of updates to existing content
Regular tracking and auditing of content
Backlink building and domain ranking improvements
Once you start looking at a more diverse done for you marketing package, prices start to double.
For example, for £2500, I provide the above PLUS:
Social media for two platforms
Lead generation design
Additional monthly blogs
My top package is £4000 per month and includes:
All of the above plus….
Community management (responding to comments and posts on social media)
Email marketing content/newsletters
Want to discuss your content strategy? Feel free to schedule a chat via the booking form below.
Find out more about my services including my Devon SEO agency and London SEO services.